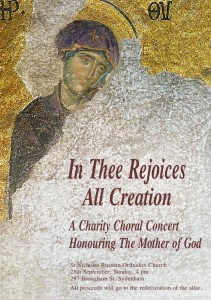 At the beginning of this year the parish of the Russian Orthodox Church in Christchurch began renovating and redecorating the interior of the church on Brougham Street.
The main aim of the project is to replace iconostasis, and to decorate the altar and church walls in style of old Byzantian and Russian church art. The method employed is that of the authentic tempera, in which the paint is created from natural pigments, egg yolk and high-quality plant-based oils.
Currently we are preparing for the redecoration of the altar. This is an elaborate, multifaceted and costly process. We turn to all Christian people to ask for help and support with this special project.
Assistance and participation is welcome and will be greatly appreciated.
As a part of our fundraising activities will be a choral concert of Church music. It will take place on the 28th of September at 4 pm in the church of St. Nicholas in Christchurch.
Due to limited seating space we would like to ask you to book the tickets beforehand.
$25 per person. Еach ticket includes a glass of wine and a light snack.
For all queries please contact. Father Valentine (322 54 64) and Iryna Maksymova (027 6603886).
Bank account for donations: St Nicholas Church 01-1188-0098576-000.